When a terrifying gang goes on a rampage at a packed subway station, Professor Jeremy Withers is severely beaten and left for dead. When he regains consciousness, he continues his journey to campus, only to find his office empty and his life as an academic for 30 years completely erased. A surprise visit from two mysterious inspectors complicates matters further. Do they want information about his attack? Who are they working for? Where can he locate them? Soon Professor Withers finds himself lost in a world that seems uncanny and unforgiving, searching for answers from people he cannot find.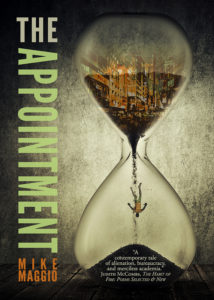 This short novella is a story of loss and alienation and has been compared to Franz Kafka's The Trial, Leo Tolstoy's The Death of Ivan Ilyich and Rod Serling's Twilight Zone.
Here's what is being said about The Appointment:
Mike Maggio's The Appointment is a contemporary tale of alienation, bureaucracy, and merciless academia. Maggio's anti-hero tries to seek some help–some human concern for his existential plight–but, like Kafka's K or Tolstoy's dying Ivan Ilych, fails to find the recognition and human warmth he so desperately needs. The Appointment is a story of existence and mortality and those who avoid human community and who are ultimately left totally alone.- JUDITH MCCOMBS, THE HABIT OF FIRE: POEMS SELECTED & NEW
************
With all the dread-filled propulsion of certain dreams, Mike Maggio's The Appointment runs on urgency. No time to get a grip on what just happened or what adds up: Professor Withers has been wounded somehow, and yet he still strives for agency and meaning, as though the powers of officialdom were not driving him relentlessly towards the appointed end.- MADELEINE MYSKO, BRINGING VINCENT HOME AND STONE HARBOR BOUND
************
Mike Maggio has one of the weirdest minds I've ever come across, and like all weird minds, it is fascinating, colorful, dramatic, and hilarious. Read, laugh, ponder.- SOPHY BURNHAM, AUTHOR OF LOVE, ALBA
************
The Appointment is available at Amazon, Barnes & Noble and other fine online shops.
By directly from this site for a signed copy: